Bermudas transport system includes buses and ferries. Ferries are operated by Seaexpress and the buses by the Public Transport Board PTB. All Ferry- and almost all Bus lines operate from the Capital Hamilton.
At thebuschedule.com all Ferry stations are available, but due to the short distances, only the major bus stations are listed. Approximately every 200 meters along the main roads is a bus stop, which is marked by a pole. If the pole is "PINK", the bus goes towards Hamilton, if "BLUE" away from Hamilton. Stopping of the bus has to be requested, otherwise bus drivers will go on without stopping.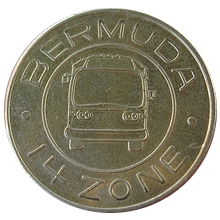 The bus net is divided into 14 Zones. Single fares are available for 3 Zones (3.50 Bermudan Dollars) and more then 3 Zones (3.50 BD$). No bills are accepted, only coins. You have to deposit the coins in to a fare box. Drivers are not allowed to handle with money. Single bus fares are also payable with tokens. Tokens are 50 Cents cheaper then normal fares and are available for 3 and 14 Zones and are deposited into the fare box to.
Ferries only accept tokens, NO CASH. Single fare on Pink Route is a 3 Zone token (2.75 BD$) and 14 Zone token (4.50 BD$) on the other routes.
Multiple Bus tickets for 3 and 14 Zones are sold in booklets of 15 journeys and cost 25.00 and 37.50 BD$. This tickets are not accepted on ferries. which have different ones. Also at 25.00 BD$ on the Pink Route and at 37.50 BD$ on the other routes.
You may transfer between bus routes to the next scheduled bus service for free, but you may not transfer to between buses and ferries.
Passes are available for 1 to 7 days, 1 and 3 months and are valid on buses and ferris.
Tokens, Tickets and Passes are sold at the PTB Central and the Ferry Terminal in Hamilton. Tokens and Tickets are sold in many Hotels and guest houses and at the visitors Service Bureau. Sub-post office sell tickets and passes.
Buses don't take passengers with luggage from or to the airport. Only bags not bigger than flight attendant bags are allowed.